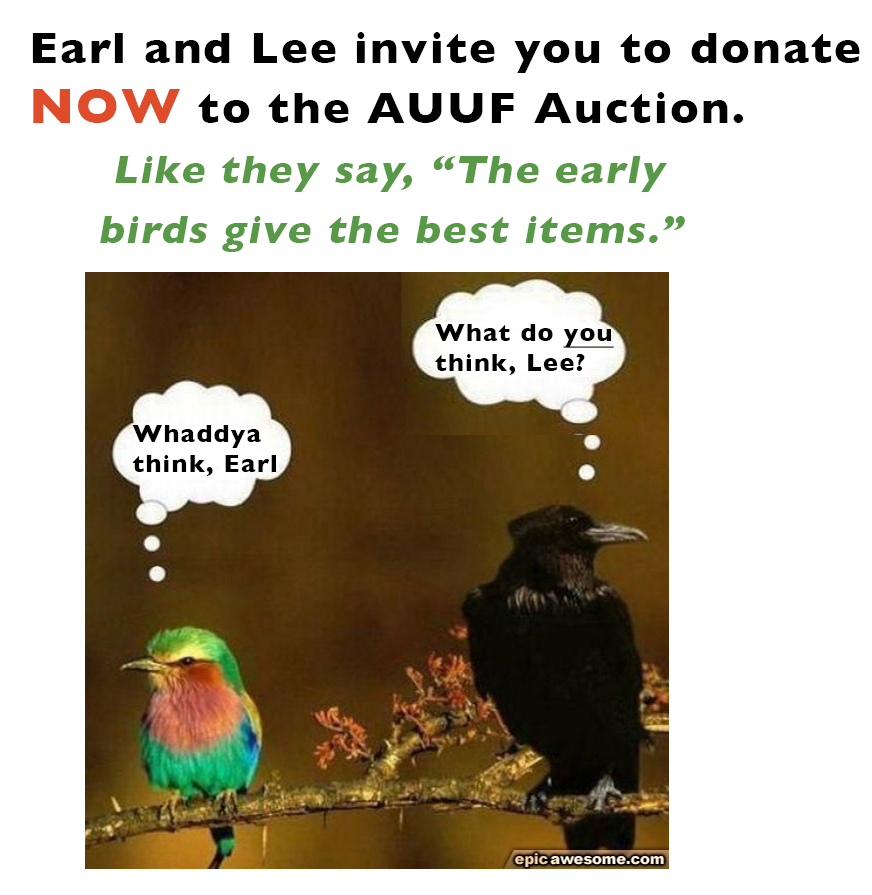 AUUF Annual Auction is just around the corner.
The Annual Auction is a major fundraiser for our Fellowship and we depend on all of the wonderful folks who donate dinners, services, artwork, and interesting items as well as donate food and drinks for that cause. The Auction is always the first Friday evening in December and a good time is experienced by those that attend.
However, in order for this to be smooth process, preparation must begin early. Our goal this year is to be able to have the donated items to be auctioned catalogued by mid-November so that we could advertise the event earlier and possibly get new attendees who do not yet know about it. In order to do this we need to have all items donated by early November so that we can print bid cards and the catalog, maybe even have something online.
All of the physical items (not services, dinners and such) should also be delivered by early November so there is time to photograph some or all of them for publicity. Please bring physical items to the Busch Center Basement labeled with the donors name and notify me (see contact below-Laura Kloberg) so that I know they have arrived.
Maybe, you cannot think of anything to donate for auction, but there is always the food table and the drink table where a contribution would be gladly accepted. These two areas will have someone in charge who will make arrangements with particular donors. Food and drink donations are usually brought the night of the event.
So think about what you will donate, then go to the AUUF.org Web site and on the main page (down low) there is an Auction link where you may enter the necessary information. Then when the date draws near, December 2, be sure to invite friends to attend a fun evening.
Laura J. Kloberg
(cell) 334-332-5458
aura57@yahoo.com