Our Minister and Staff
Ministry
Rev. Chris Rothbauer is our second settled minister and arrived in Auburn in August 2019 to start their ministry with us. Rev. Chris grew up in a working class family in the suburbs of Louisville, Kentucky, in the foothills of Southern Indiana. Rev. Chris most recently served as a chaplain resident at the University of Louisville Hospital in Louisville, Kentucky, and has served congregations in Michigan, Kentucky, and Alberta, Canada. They bring to our community an activist spirit with a passion for community building, shared ministry, religious education, justice work, and interfaith dialogue. They currently serve on the steering committee of Transgender Religious Professional Unitarian Universalists Together (TRUUsT), the professional organization for transgender and non-binary people within Unitarian Universalism. Rev. Chris's experience in Unitarian Universalism is international, having become a Unitarian Universalist in the British Unitarian church and also having experience in congregations in the United States and Canada.
Rev. Chris holds a Bachelor of Arts in Philosophy and English from Indiana University Southeast in New Albany, Indiana, a Master of Arts in Philosophy from the University of Sheffield in Sheffield, United Kingdom, and a Master of Divinity as well as a Master of Arts in Leadership Studies from Meadville Lombard Theological School in Chicago, Illinois. Rev. Chris also studied abroad for a year at the University of Kent in Canterbury, United Kingdom in 2007, and was honored to receive a scholarship to study at Tsbuaki Grand Shrine in Suzuka, Japan in 2014.
Rev. Chris lives in Auburn with their partner, Calvin, a senior rescue beagle named Courtney, and a spoiled rotten cat named Evander. In their free time, they enjoy travelling, reading, over-analyzing pop culture, watching good and bad films, and hiking all the amazing trails the beautiful state of Alabama has to offer.
Rev. Chris is agender and uses they/them/their pronouns.
Rev. Chris can be reached by email at
minister@auuf.org
or by phone or text at (334) 524-0296.
Director of Religious Exploration (auufdre@gmail.com)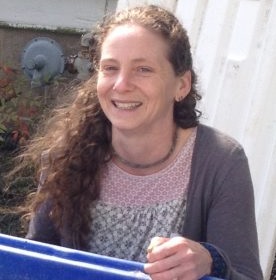 Julie Meadows has been affiliated with AUUF since 1997 when she was pregnant with her first child and searching for a community to raise my baby in. Julie taught RE for 3 years and was an RE co-chair before stepping into the role of DRE in April, 2015.
Administration
Minister Emerita

CustodianOperations

Choir DirectorPrograms

Office Administrator Operations(334) 826-0595

MinisterMinistry(334) 524-0296

Director of Religious Exploration Programs