Upcoming Service
Juust Food
Rev. Pam Gehrke
How can we make sense of conflicting and changing information about nutrition, feed ourselves in a sustainable way, and enjoy our meals?
Exploring "Religious Education" November 16, 2017

Education…. Exploration…. Think about those two words for a moment. What are the images that pop into your mind when you hear each word?  I'll return to this question shortly, but first I want to share with you some of the amazing experiences I've had this year ...
I found the Auburn UU Fellowship when I was in my late 30's. I had been raised Catholic and when it no longer made sense to me, I thought I would simply do without a church. I happened onto the Fellowship through an art exhibit there. Within a few months, I realized that I had found a spiritual community where I felt at home. I discovered a way of making a difference and of being a part. I've been here for over 30 years now. It's home.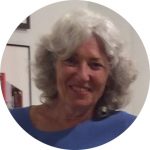 Terry Rodriguez