Upcoming Service
Metanoia: "Change of Heart"
Rev. Pam Gehrke
How can we be more true to our creative selves and our humanity?
Autumn Themes October 9, 2017

Do you ever read the "wayside pulpit" messages in front of churches—sometimes a passage from scripture, sometimes an uplifting sentiment, sometimes a silly pun? Unlike the signboards in front of our Unitarian Universalist church and fellowship buildings, they usually do not announce the topic of the Sunday ...
I found the Auburn UU Fellowship when I was in my late 30's. I had been raised Catholic and when it no longer made sense to me, I thought I would simply do without a church. I happened onto the Fellowship through an art exhibit there. Within a few months, I realized that I had found a spiritual community where I felt at home. I discovered a way of making a difference and of being a part. I've been here for over 30 years now. It's home.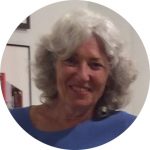 Terry Rodriguez