Recorded Services
Sunday, January 13, 2019
"What's Love Got to Do with It?" Rev. Marti Keller

Tina Turner, in this ironic iconic song, was talking about one kind of love. We Unitarians, and especially Universalists, talk about another.  How are we doing, love-wise? 
Monday, December 24, 2018
"Christmas Eve Message" Rev. Marti Keller
Sunday, December 16, 2018
"Little Women and Why It Still Matters" Rev. Marti Keller

One of the most famous holiday lines in a novel may be this one "Christmas won't be Christmas without any present," grumbled Jo, lying on the rug.
In this 150th anniversary year of the publication of what has been described as equal parts thinly disguised family memoir, complex social chronicle, and young adult novel. we will look at its American Christmas holiday messages, what is said and still says about growing up female– and whether it will survive the 21st century as a popular classic book.
Marti still ranks Little Women among her favorite books, and arguably her first favorite book, has seen most if not all of the film adaptations, and is eagerly awaiting Greta Gerwig's much anticipated remake with Meryl Streep, Saoirse Roman, and Timothee Chlamet, scheduled for a Christmas 2019 release.
Sunday, December 2, 2018
"Blintzes & Blizen" Rev. Marti Keller
How UU's do both Hanukkah & Christmas?  December is a particular challenge. How do we or don't we affirm and promote overlapping religious holidays and traditions in this larger Christian culture?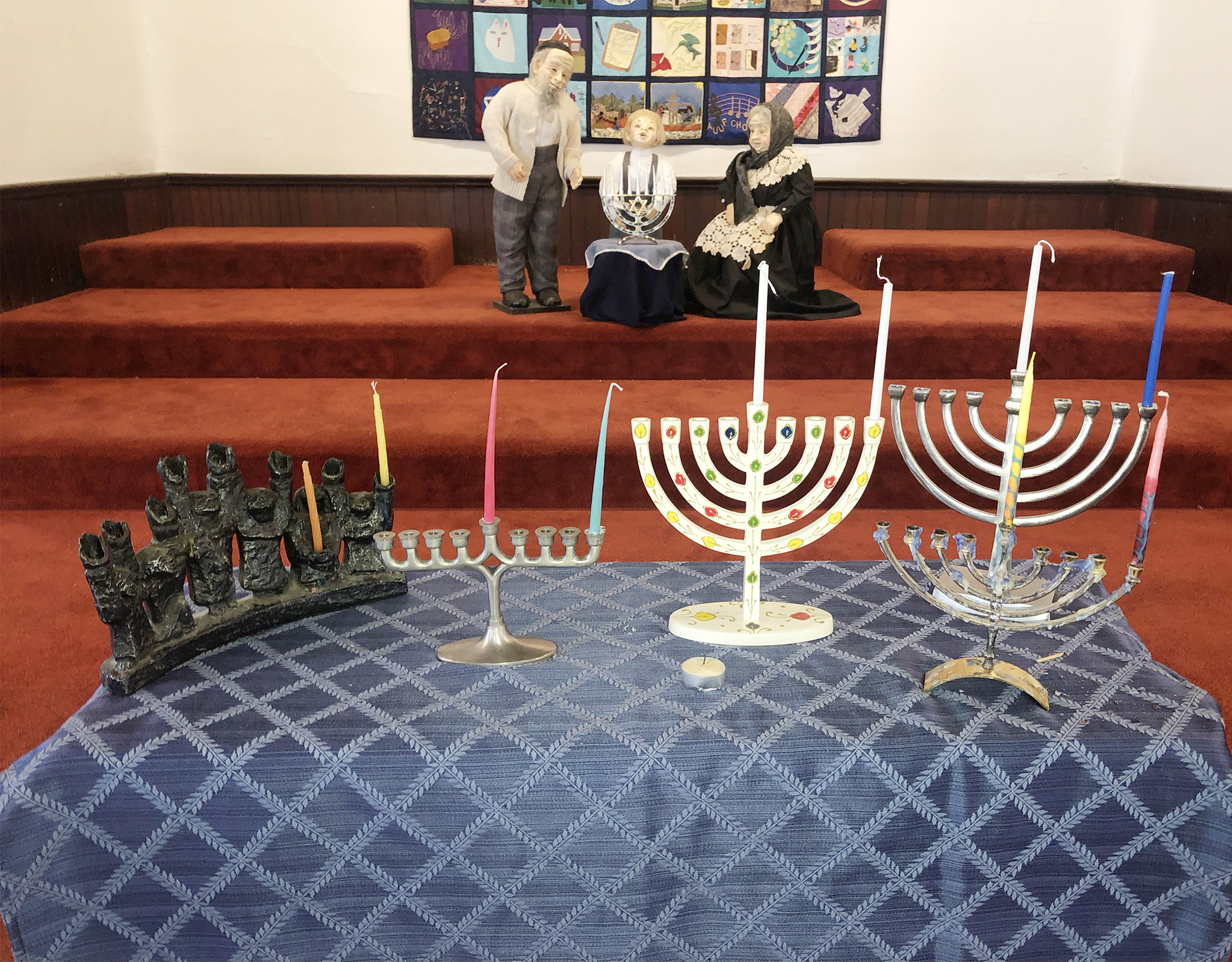 Sunday, November 18, 2018
"Mixed Blessings" Rev. Marti Keller
Annual Bread Service
Sunday, Oct 28, 2018
"I Am a Curious UU" Rev. Marti Keller
A look at the life and times of Michael Servetus, arguably our only Unitarian religious martyr, as well as a broader and deeper exploration of the core value of curiosity in our living, evolving faith tradition.
Sunday, Oct 21, 2018
"Won't You be by Neighbor?" Rev. Marti Keller
Includes Choir Parody song "People in the Fellowship" Words by Martha Law and Amy Kaiser
Sunday, September 30, 2018
"Middle School" Rev. Marti Keller
Sunday, September 2, 2018
"Bread & Roses" Rev. Marti Keller
Sunday, August 19, 2018
"Ingathering" Rev. Marti Keller
---
Sunday, October 29, 2017
Metanoia: "Change of Heart" Christine Schnittka
How can we be more true to our creative selves and our humanity?
Sunday, October 22, 2017
"The Promise and the Practice" Rev. Pam Gehrke
What are we doing to dismantle racism?
Sunday, October 15, 2017
"Safety and Comfort" Rev. Pam Gehrke
Sunday, October 8, 2017
Fools & Feathers: "Getting Proximate" Rev. Pam Gehrke